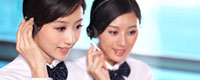 Name: Cassie.Huang
Tel: +86-755-27864416
Fax: +86-755-27864653
Mobile: 15989366182
E-mail: cassie@rxxdisplay.com
Skype: live:cassie_1191
QQ: 2850818618




Company News
>> BOE performance soared to lead the South Korean panel industry vibration LGD or jointly developed Samsung OLED panel 7th,Mar,2017
The global panel industry are preparing for the winter, and China's leading enterprises BOE A is still riding a horse Pentium. According to BOE A's third quarter earnings, the company recorded operating income of 36.42 billion yuan in January-September 2015, an increase of 44.02%, recorded net profit attributable to shareholders of listed companies 1.992 billion yuan, an increase of 7.42%. Deductible, net profit attributable to more than 1.4 billion yuan.
In order to make a comparison, we look at the South Korean panel giant LG Display's third quarter earnings. In July-September 2015, LGD recorded operating income of 7.1582 trillion won (about 40 billion yuan), the second quarter growth of 7%, compared with the third quarter of last year, an increase of 9%, but the operating profit and net profit were 33.2 billion won and 1987 billion won (about 1.1 billion yuan), respectively, year on year decline of 30% and 44%, down 32% and 45%.
Of course, BOE A said in the third quarter of 2015 net profit attributable to shareholders of listed companies fell 94.93% year on year, mainly due to the third quarter due to the depreciation of the renminbi exchange losses caused by about 728 million yuan.
However, after deducting the influence of exchange factors, the Company's operating profit will maintain steady growth and further enhance the overall profitability by further deepening the adjustment of product structure and raising the proportion of high value-added products. In July-September 2015, BOE A's operating income increased by 46.59% to 13.449 billion yuan. Compared to LGD, it can be regarded as skyrocketing.
Industry level, lack of demand for panel this year, the overall decline in prices is the trend. In other words, the environment is not good, mainly color TV and smart phones, Tablet PC, the demand for these new equipment slowed down and down.
Panel industry winter, not empty words. TCL Group in the third quarter earnings report also pointed out that the impact of changes in supply and demand changes, LCD panel industry boom continued downward, by the level of product prices lower than the same period last year and T2 production line in the impact of the third quarter Huaxing photoelectric The profit is also down year on year, the industry is expected to LCD TV large trend will continue.
In the field of color TV, according to IHS Display Search survey, the world's top 15 color TV manufacturers in 2015, the total shipments of LCD TVs is expected to be 158.3 million units, compared with April forecast target value of 99.9 million units fell 7.3 %. Especially in China's consumer TV market downturn, making the Chinese brand manufacturers weak demand.
BOE is a professional panel manufacturing company, from 2003 to 2007, is BOE in the LCD panel industry piling stage, 2008 to 2012, BOE became the world's leading technology pursuers, from 2013 to 2015, BOE successfully achieved Profit, and gradually reached a series of global first high-end technology products.
Such as the world's first 10K ultra-high-definition display, the world's first color correction screen, the world's highest resolution 941PPI4K-class mobile phone display.
In the first half of 2015, BOE applied for a total of 3250 patents, of which the invention patent accounted for nearly 90%, so far the cumulative use of patents has more than 32,000, the company's 2014 smart phone and tablet LCD panel global Market share of 20%, respectively, 31%, are ranked first in the world, the global first product coverage as high as 38%.
BOE compared to LGD, in the panel industry is still growing in the winter behind the surge, is a huge demand for substitution. BOE A in the investor report pointed out that since 2015, the market continues to show a structured market, (China) mainland regions still need to import nearly 40 billion dollars per year panel, self-sufficiency rate of about 34% over the next 3 years, 60 inches or more products will Widely used.
Not long ago, BOE A has announced a 10.5-generation line of LCD panel project plan. BOE is currently planning, construction and has been completed, a total of 10 panel lines, respectively, LCD panel 4.5 on behalf of the line, 5 on behalf of the line, 6 on behalf of the line, 10.5 on behalf of the line, 4 8.5 on behalf of the line and 5.5 AMOLED line, 6 generation AMOLED line.
Up to now, BOE from 4K, 8K to 10K LCD display all the world's first, 110-inch 4K, 98-inch 8K, 110-inch 8K, 82-inch 10K display are the size and resolution of the most, leading the industry HD display trend.
In addition to the technology to do the world's leading, BOE (BOE) also achieved R & D and technological transformation speed of the "myth" - 3 months to complete 8K R & D, 6 months to complete 10K R & D, 8K products have long been to Japan NHK TV And a number of Japanese top equipment manufacturers supply, but also access to medical, financial and other fields of praise.