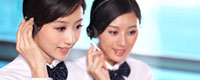 Name: Cassie.Huang
Tel: +86-755-27864416
Fax: +86-755-27864653
Mobile: 15989366182
E-mail: cassie@rxxdisplay.com
Skype: live:cassie_1191
QQ: 2850818618




Company News
>> Samsung denied trying to stop supplying the LCD panel to Apple 25th,Mar,2017
Samsung spokesman came forward to deny Samsung plans to stop supplying Apple LCD panel rumors next year, said the news from South Korea is not true.
South Korea quoted anonymous Samsung quoted the news, first disclosed the Samsung and Apple will end the end of this year's LCD business dealings.
However, the Samsung Group spokesman immediately corrected the rumors that this is a completely unfounded rumors.
"Samsung has never tried to stop working with Apple on LCD," the spokesman said.
The spokesman further added that Samsung has issued a request to correct the news to the Korea Times. Samsung has been in contact with Apple on this matter.
Apple and Samsung in the past period of time, the relationship has been in a very tense stage. In order to win the patent war, the two sides in a number of courts around the world fighting.
Although Apple has always been dependent on Samsung to provide spare parts, but Apple has also been constantly working to reduce the Samsung in the parts on the business relationship. It is reported that Apple recently to HP and LG to discuss the supply of LCD panel matters, and in the chip production, Apple also hopes to build cooperation with manufacturers outside of Samsung.