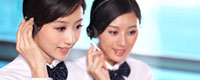 Name: Cassie.Huang
Tel: +86-755-27864416
Fax: +86-755-27864653
Mobile: 15989366182
E-mail: cassie@rxxdisplay.com
Skype: live:cassie_1191
QQ: 2850818618




Company News
>> 2016 TFT-LCD industry will reach 100 billion yuan 4th,Jan, 2017
China's TFT-LCD display materials, devices and equipment localization is facing a rare opportunity for development, as China's mainland enterprises to gradually expand the scale of production capacity. Data show that after 2016, China's TFT-LCD industry in LCD materials, substrate glass (including color with glass), polarizers, color filters, optical film and other products on the total demand value will be close to 100 billion yuan.
However, due to lack of accumulated R & D, foreign technology giants blockade, intellectual property protection and other factors, the current local enterprises are still supporting the ability to hover in the low-end market, the lack of localization of key materials and equipment, has become a hindrance TFT- Chain is bigger and stronger key factor.
Key optical materials and equipment is controlled by others.In recent years, the mainland TFT-LCD industry chain of raw materials, equipment and parts industry has made some achievements, but did not change the key materials and equipment controlled by the situation.

In the TFT-LCD industry chain, the upstream material, equipment and components industry has played a strong supporting role in the technical threshold, industry concentration, bargaining power than the middle and lower reaches of the whole panel high. In recent years, the mainland panel industry investment boom has greatly stimulated the upstream industry chain demand. According to estimates, after 2016, China's TFT-LCD industry requires at least 250 tons of liquid crystal material, 100 million square meters of substrate glass (including color film with glass), 100 million square meters of polarizer, 50 million square meters of color filters, More than 10 million square meters of optical film, its total value will be close to 100 billion yuan.
Faced with such a huge business opportunities, local enterprises are now only look away. CCID Consulting, general manager of photoelectric business unit Jinlong Jin told the author, due to the lack of overall planning, the mainland in the intensive layout of high-generation LCD panel production line at the same time, upstream, such as glass substrates, filters, polarizers, LCD materials and other core links Relatively backward, the overall industry competitiveness is not strong, to the mainland flat panel display industry has brought hidden dangers for the healthy development. From the China Optical Optoelectronics Industry Association, LCD branch of the data also show that in 2013, the mainland backbone enterprises to purchase localized materials, equipment more than 15 billion yuan, an increase of more than 40%, but overall coverage in the category and matching rate is still Not high, especially local equipment matching rate of less than 2%.

To polarizer, for example, according to Chang Jinlong introduction, the current local polarizer mainly concentrated in the low-end applications (small size), such as instrument panel, glasses, electronic dictionaries, digital cameras and so on. "At present, only the mainland Sheng wave optoelectronic and three wide spectrum of two polarized light polarizing film production line, and the market demand is very different, the mainland LCD panel manufacturers have to purchase from foreign-funded enterprises." Chang Jinlong said.
At the same time, TFT key equipment localization blank has become a key factor affecting the comprehensive competitiveness of TFT-LCD industry chain. Reporters in the interview that, due to the current local TFT manufacturers can only produce low-tech parts of the production line on some aspects of the equipment, the mainland started construction of a number of high-generation panel line, about 90% of fixed investment Are spent on the purchase of imported equipment. In this regard, often Jinlong also admitted that the complete set of production lines dependent on imports, the mainland panel manufacturers much higher than the cost of foreign enterprises, but also limits the construction of China's independent intellectual property rights system.