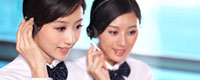 Name: Cassie.Huang
Tel: +86-755-27864416
Fax: +86-755-27864653
Mobile: 15989366182
E-mail: cassie@rxxdisplay.com
Skype: live:cassie_1191
QQ: 2850818618




Company News
>> Peng Shuanglang: AUO will not rush into the OLED TV panel market 1st,Mar,2017
AUO chairman Peng Shuanglang said AUO is the only take-away round organic light-emitting diode (OLED) panel manufacturers, but in addition to such small and medium size OLED panels, large size OLED TV panel market still have to be observed.
OLED panel to the current smartphone market, Samsung has more than 9 percent of the market, outsiders Apple iPhone is also interested in using OLED panels, but has not been confirmed.
Although South Korea's LG (LG) in this year's US Consumer Electronics Show strong display OLED TV, the use of its own group panel panel production OLED panel, but Peng Shuanglang today in the online legal person will be analyzed, the current OLED TV using different technologies, the trend has not yet clear. In the market size can not effectively enlarge the case, the price is relatively expensive.
He bluntly, LCD TV can continue to cut prices, because the market continued to expand, panel production costs, TV prices also followed decline, but OLED TV is still not up to economies of scale. Therefore, AUO will not rush into the OLED TV panel market.
In addition, in addition to Kunshan 6 generation of low-temperature polysilicon panel factory production in the second half, Taichung after 8.5 new capacity out of the second quarter out, he said, some low-generation panel production line used to do specific products, in fact, very good benefit.