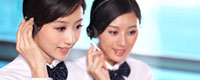 Name: Cassie.Huang
Tel: +86-755-27864416
Fax: +86-755-27864653
Mobile: 15989366182
E-mail: cassie@rxxdisplay.com
Skype: live:cassie_1191
QQ: 2850818618




Company News
>> Grab LG business? Samsung will provide OLED panel for Apple iPhone 7th,Mar,2017
According to the Korean media ET News reported that the Samsung display (Samsung Display) is now Apple's watch OLED display suppliers, follow-up may also provide other devices for Apple's OLED panel.
It is reported that Apple has begun to Samsung into its OLED supply chain to expand the number of panel suppliers, which makes the LG display (LG Display) is no longer Apple watches OLED display the only supplier. Although the two companies in the field of wearable equipment on the surface there is still a cooperative relationship, but Apple has received samples of Samsung OLED display, may be used for follow-up iPhone new machine.
According to industry news, Apple is considering this initiative to upgrade the phone specifications, and these are currently due to a variety of production bottlenecks are limited.
Reported that Apple is expected to make a decision in November. This decision will also affect Samsung's actions to further promote the A3 factory surface OLED panel production, and Samsung further large-scale production technology investment plan is still in its early stages.
The industry speculated that if Apple decided to adopt this technology, then an iPhone equipped with OLED panel is expected to be listed in 2017, and Samsung has also joined the next generation iPhone program. However, there are reports that Apple's November decision may change this development.
At the same time, the Japanese media recently reported that Apple will strengthen cooperation with JDI in the field of high-end display. As the new iPhone program has been developed, the cooperation is expected to last until 2016.