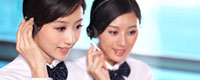 Name: Cassie.Huang
Tel: +86-755-27864416
Fax: +86-755-27864653
Mobile: 15989366182
E-mail: cassie@rxxdisplay.com
Skype: live:cassie_1191
QQ: 2850818618




Company News
>> Forecast and Analysis of China 's OLED Industry Market Development Prospect in 6th, Jan, 2017
In the first half of the LCD era, the Chinese mainland required LCD panel completely dependent on imports. In order to get rid of the pain of "lack of core and less screen", the Chinese government vigorously supported the related industries, the domestic LCD panel industry developed rapidly, a number of panel manufacturing enterprises such as BOE, Huaxing, Tianma, Longtop, CPT, CLP Panda and other enterprises. LCD panel self-sufficiency rate increased year by year, by 2015 the LCD panel self-sufficiency rate has reached 58%.
OLED as a new generation of display technology, the Chinese government attaches great importance to its support as a strategic industry. In the government's policy support, the domestic enterprises with their own actual situation of OLED technology research and development investment in a lot of money and manpower, business and research institutes to develop OLED technology. After several years of technical accumulation and trial production, some panel manufacturers in China, such as BOE, and Hui Photoelectric, Visionox, Pegasus Dengjun have mastered the mass production of OLED technology.
Local governments for the construction of OLED panel production line to give a positive support, including the construction of land transfer, tax relief, introduction of talent and the introduction of supporting industries and so on. For example, the Ordos City, Inner Mongolia, in order to attract the BOE production line settled, given the BOE every 2 billion yuan investment can get 100 million tons of coal mining concessions.Mianyang City, Sichuan Province, not only invested 20 billion yuan and the BOE to build the BOE - Mianyang 6 generation OLED production line, and high-tech zones in Mianyang City, a one-time allocation of 1,200 acres of land as construction land, and the other planning 800 acres of land for project supporting industrial construction land . Shanghai Municipal Government and the Jinshan District Government set up a joint-hui photoelectric, research and development, production OLED, as a strategic emerging industries in Shanghai key projects.
In addition to the Chinese government's support, the huge domestic market demand for OLED panel industry is an inevitable requirement. In particular, the proportion of demand for OLED panels is even higher. In addition to Samsung and LG, mobile phone manufacturers in China mainly use OLEDs such as Huawei, millet, OPPO, and vivo, while domestic demand for display panels is more than 30% OLED output is less than a fraction of South Korea's output, promising OLED companies in Mainland China.
Driven by these factors, a number of Chinese enterprises began to enter the OLED industry. Mainland China in the second generation of display technology LCD start late, starting point is low, big but not strong. In the third generation of display technology OLED era, the starting point of China's mainland, starting earlier, hope to become bigger and stronger.