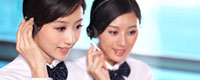 Name: Cassie.Huang
Tel: +86-755-27864416
Fax: +86-755-27864653
Mobile: 15989366182
E-mail: cassie@rxxdisplay.com
Skype: live:cassie_1191
QQ: 2850818618




Company News
>> AMOLED will replace LTPS TFT-LCD as the mainstream mobile phone panel 10th,Mar,2017
According to the latest survey by IHS Technology, the first quarter of 2016, active matrix organic light-emitting diode (AMOLED) display in the smart phone market share of 21%, 12% over the same period last year, a substantial growth.
In March 2016, AMOLED smartphone panel unit shipments reached 31.7 million units, an increase of 23% over the previous month. Although the shipments of low-temperature polysilicon (LTPS) thin film transistor liquid crystal display (TFT-LCD) panels for smartphones earlier this year were 2.5 times higher than AMOLED panel shipments in March, this figure has been reduced to 1.3 Times.
According to Brian Huh, a senior analyst at IHS Technology, as the cost reductions and more smartphone manufacturers prefer AMOLED to both light and thin dimensions, better color saturation, higher contrast, and other differentiated features, the LTPS TFT- The gap between LCD and AMOLED is shrinking.
Samsung's low-end and mid-range phones are also widely used AMOLED display, coupled with the continued increase in demand from the Chinese brand mobile phones, are driving the rapid growth of this technology is the main driving force. OPPO, Vivo, Gionee, and other Chinese brands have added AMOLED smartphones to their product mix, and Huawei and Xiaomi are planning to import the technology in a new generation of models to be introduced.
In addition, it is reported that Apple (Apple) is also considering the new models in 2017 using AMOLED display (as of now, the company's smart phone has been using LTPS TFT-LCD, which contributed to the technology-led smart phone market ).