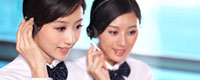 Name: Cassie.Huang
Tel: +86-755-27864416
Fax: +86-755-27864653
Mobile: 15989366182
E-mail: cassie@rxxdisplay.com
Skype: live:cassie_1191
QQ: 2850818618




Company News
>> Demand to improve the size of large-size LCD panel is expected to hold steady 15th,Mar,2017
March 31 news, it is estimated that the price of large LCD panels will maintain the current level, and in the April-June 2009 steady development during the period.
32-inch LCD TV panel with an average wholesale price of $ 170, with the same price range at the beginning of the year. While the 17-inch computer screen panel, it is 4% higher than a month ago. In contrast, the two products from the summer (2008) from the beginning of the six months, prices are plummeting 50%.
Panel makers are trying to stop the decline, so a substantial reduction in production, the number of factories to cut even up to 70%. South Korea's panel leader LG Display Co. (034220-KR) and Samsung Electronics Co. (066570-KR) all cut 30%. Japan's panel business to follow up late, but in the end of 2008 and finally follow the cut.
Japan panel plant in April-June to ease the number of production, it is estimated that the panel market will not be oversupply oversupply. BCN Inc. observes Japan's LCD TV sales since March 1 to 25 and found an increase of 35.5% compared to the same period last year. An increase of 30% in February.
In China, the government's stimulus package includes subsidies to consumers to buy electronic products, making Japan's demand for small LCD TV increased significantly.
According to Taiwan's panel industry leader AU Optronics pointed out that orders from mainland TV manufacturers, since December is growing. Samsung also mentioned that demand from China's panel has picked up. US TV sales are also stable.
But despite the above factors support, LCD panel price recovery process is still difficult. According to market research company DisplaySearch forecast, panel makers in the second quarter of the utilization rate will be 75%. 15% higher than the first quarter, but still relatively low.