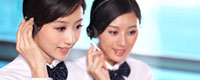 Name: Cassie.Huang
Tel: +86-755-27864416
Fax: +86-755-27864653
Mobile: 15989366182
E-mail: cassie@rxxdisplay.com
Skype: live:cassie_1191
QQ: 2850818618




Company News
>> This year the world's large-size TFT LCD panel shipments will grow slightly 15th,Mar,2017
2009 global large size (10.4 inches or more) TFT LCD panel industry is facing the main problem is the demand side growth rate is still less than the supply side growth, therefore, must rely on the panel plant to limit capacity expansion, or even factory partition shutdown or shutdown Capacity.
Analysts predict that in 2009 the global large-size TFT LCD panel total volume will be 453 million, the annual growth rate of 4.0%, which still monitor the panel with the highest proportion, followed by notebook computers (NB) and TV Panel, the first three applications are expected to shipments were 176 million, 143 million and 121 million.
In terms of capacity growth, it is expected that the increase in global large-size TFT LCD panel capacity (in terms of glass substrate capacity area) will hit a record low in 2009, with annual production capacity expected to increase by only 11%, mainly due to the plant and plant in the 5th generation Line, 7.5 generation, 8.5 generation or 10 generation line has cut production, customs or delay the new production line action.
In contrast, South Korea's Samsung Electronics (Samsung Electronics) in the 7 generation and 8.5 on behalf of the line (L7-2, L8-1 Phase 2, L8-2) have increased production plans, LG Display in the 6 generation, 7.5 generation and 8.5 on behalf of the line also New capacity plan. While the mainland China has also been 5 on behalf of the line and 6 generation line production capacity.
In the demand side (in terms of panel shipments) will only increase by 6% over 2008. The reason is that more than 10.4 inches PC (monitor + NB) panel shipments decline, while TV panel shipments increased by 16% over 2008, but the increase in demand is still more 26,32 inches and so on Small size panel, so the overall output area in 2009 increased by limited.
Based on the development of global large-size panel supply and demand, it is expected that panel makers in 2009, in particular, Taiwan plant, must be discontinued by plant, delaying the installation or start-up of new production lines (to reduce depreciation costs) and reducing the initial production Scale, and even closed production lines (such as the 2008 CPT 4.5 line) and other measures to reduce production capacity growth, South Korean manufacturers due to exchange rate and brand advantage is still, coupled with the depreciation of a shorter period, it is favorable in the offer to take positive The
If the regional capacity changes in the analysis, is expected to South Korean manufacturers in large-size TFT LCD panel production capacity in the fourth quarter will be able to jump to 50% level, and 2009 Taiwan large size TFT LCD panel manufacturers capacity in 2009 The second half will be further reduced.
Considering the cost structure of Korea, Japan, Taiwan and China's panel mills in 2009, coupled with the exchange rate factors caused by Taiwan and South Korea panel factory cost structure is different, it is expected in 2009 Taiwan panel plant will be profitable for the priority To consider, in the maintenance of shipments will not be too actively pursued in 2009, Taiwan's large-size TFT LCD panel shipments in the global share will be further reduced to 40.3%, this will be the first time in Taiwan's Taiwan manufacturers in 2003 up Break through 4 percent, then fall to this level.