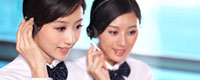 Name: Cassie.Huang
Tel: +86-755-27864416
Fax: +86-755-27864653
Mobile: 15989366182
E-mail: cassie@rxxdisplay.com
Skype: live:cassie_1191
QQ: 2850818618




Company News
>> 40 billion yuan flexible AMOLED display project signed in Ningbo 20th,Mar,2017
August 8, Ningbo Yinzhou District and Munger Technology Co., Ltd. held a flexible AMOLED display project signing ceremony. The project plans to use 700 acres of land, a total investment of 40 billion yuan, Yinzhou history is the largest total investment in industrial projects. Hu Jun, Chen Guojun, Wang Ziqiang, Chen Zhenguo and other district four team leaders attended the signing ceremony.
Deputy secretary of the district, the mayor Chen Guojun said in his speech, Yinzhou has always been a high ground of manufacturing, entrepreneurs and the blessing of investors and treasure, especially since the withdrawal of the county since the district, Yinzhou seize the opportunity, dare to first, to achieve Industrial counties to the economic zone across the industrial county (city, district) comprehensive evaluation for three consecutive years ranked first in the province, two fusion level ranks second in the province.
Chen Guojun said that Yinzhou has today's status and achievements, one by leading the comprehensive strength, leading Yinzhou last year, the total output value of 135 billion yuan, the total amount of the city's first general public budget revenue for eight consecutive years to maintain the province's first; Is the real investment, Yinzhou has always been to attract investment as a "lifeline" project and the "number one" project to "five spirit" the introduction of China's vehicles and a number of major industrial projects; three rely on high-quality diversified business entities , And vigorously cultivate leading backbone enterprises, industry singles champion, science and technology unicorn enterprises, the region has five ultra-10 billion enterprises, 60 super-billion enterprises; four rely on accurate and efficient government services, this year also introduced down The reduction of the policy, is expected to reduce the loss of 4 billion yuan for enterprises to achieve the safe area to create "11 consecutive years." Hope that the two sides to further deepen ties, close exchanges, accelerate the project early landing, early construction, early production, and jointly create a win-win cooperation between the two sides a better tomorrow.
Vice Mayor Mei Yi Jin on behalf of the district government and Mange Technology Co., Ltd. signed.
Flexible AMOLED display project R & D, manufacturing "organic light-emitting diode" semiconductor display is known as the next generation of display technology, new materials, high-tech projects, the display in quality, performance, cost are more market competitiveness, Compared with the traditional liquid crystal display, with a wider viewing angle, higher refresh rate, larger size and other iterative functions, is currently used in smart phones, tablet PCs, mobile devices and other fields.