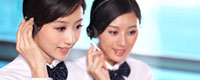 Name: Cassie.Huang
Tel: +86-755-27864416
Fax: +86-755-27864653
Mobile: 15989366182
E-mail: cassie@rxxdisplay.com
Skype: live:cassie_1191
QQ: 2850818618




Company News
>> Industry said the OLED display market has great potential 21th,Mar,2017
According to South Korea, "Asian economy" reported that this year is expected to organic light-emitting diode (OLED) display market demand will grow further, the scale of production will increase more than 2 times.
According to the electronics industry and market research firm "Displaysearch" forecast this year, the world's smart phones for the OLED display production scale will reach 1.7659 billion. Smart phone with OLED display in 2010 to 43.75 million, last year increased to 81.32 million, was explosive growth.
"Displaysearch" OLED display next year, the scale of production will reach 2612.2 million.
OLED display and the traditional LCD display is different from the need for backlight, using a very thin organic coating and glass substrate, when there is current through, these organic materials will be self-luminous. And the OLED display is lighter and thinner than the LCD, has a higher viewing angle, and can save significant power.
According to the production process is different, OLED display is divided into active type (AM) and manual type (PM) two types.
Smart phone with OLED display this year's sales will reach 59.3131 billion US dollars, an increase of 102% next year is expected to break through 8.4330 billion US dollars.
OLED display can not only be applied to smart phones, can also be widely used in handheld games, tablet PCs, digital cameras and other IT products, the market has great potential.
This year is expected to handheld game console with OLED display production scale will reach 13.65 million, Tablet PC with OLED will reach 8.1 million, digital camera will reach 3.91 million.
The 10-inch OLED display production on IT products, including smartphones, will reach 242.5 million units this year and sales will exceed $ 74.6031 billion, up 128% and 123% year-over-year.
The reason for this explosive growth is mainly due to mobile phone manufacturers are currently beginning to use OLED display instead of the traditional LCD display.
Chinese mobile phone maker Huawei in the current Barcelona, ​​Spain, "2012 World Mobile Communications Conference (MWC)" introduced the use of OLED display ultra-thin Andrews system smart phone. Taiwan's mobile phone company HTC (HTC) also introduced the use of OLED display 4.3-inch smart phone.
Due to the huge market potential of OLED display, is expected to account for 97% of the global market share of Samsung mobile phone display sales this year will be substantial growth.