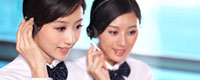 Name: Cassie.Huang
Tel: +86-755-27864416
Fax: +86-755-27864653
Mobile: 15989366182
E-mail: cassie@rxxdisplay.com
Skype: live:cassie_1191
QQ: 2850818618




Company News
>> Taiwan Economic Department said it can only rely on OLED panels and other niche market competition with the mainland 22th,Mar,2017
It is reported that, recently, Taiwan's Ministry of Economic Affairs statistics show that the panel and its component industry, the direct export ratio of about Bacheng, and the mainland as the largest market, the rise of the mainland supply chain, and mainland enterprises can only rely on large-scale competition, OLED Panel and other niche market.

Statistics show that from January to June this year, panel exports worth 3.33 billion US dollars, down 27.4%. As the majority of the panel module in the mainland assembly, the main export market led by the mainland, accounting for 78.3%, Hong Kong 12.2% followed.
According to the Bureau of Trade statistics, from January to June this year, South Korea's panel export value is only 7.53 billion US dollars, annual 33.8% over the same period, the Japanese panel exports more than three percent decline in exports, showing this year on the Half of the global panel boom is generally poor. Comparison of the main competitors of the panel exports, the mainland's export value ranked first, South Korea second, Taiwan and Japan are separated third, fourth.
As for how to boost the panel exports? Officials said that with the new government is pushing the new south policy, the industry should introduce cheap products into double India (India, Indonesia) and other emerging markets; also introduced a standardized procurement model, simple procurement process ; Continuous innovation and development of energy can not stop.
To observe the output value of the product, the Taiwan panel industry to 10 inches above the large size of the panel is a large product, the output value of about five percent. Last year, due to the weak demand for notebooks, monitors and other products, panel prices fell, large-size panel output value decreased by 16.2%; the beginning of the South Taiwan earthquake, interference manufacturers production progress, the first five months of this year's output value is also reduced by nearly four percent.
10 inches below the small size of the panel, the output value of about one hundred and five. Last year, due to the growth of smart phone stagnation, flat-panel computer sales decline, the output value decreased by 18%; accumulated five months before the output value is also reduced by nearly three percent.
Components, including color filters, LCD glass substrate, backlight module output value also fell simultaneously.