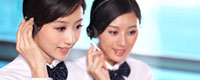 Name: Cassie.Huang
Tel: +86-755-27864416
Fax: +86-755-27864653
Mobile: 15989366182
E-mail: cassie@rxxdisplay.com
Skype: live:cassie_1191
QQ: 2850818618




Company News
>> China's LCD TV exports in the first half of 2016 increased by 14.0% 22th,Mar,2017
According to customs data and Qunzhi consulting survey, the first half of 2016, the Chinese market LCD TV exports reached 33.1 million units, an increase of 14.0%. The first half of the export market has experienced high-speed growth, Qunzhi Consulting (Σintell) analysis of the first half of the export growth factors are as follows:
1, the depreciation of the yuan pull export growth, the RMB devaluation will become a long-term trend
From the beginning of April this year, the RMB continued to depreciate, indirectly led the second quarter of the Chinese market LCD TV export volume increased by 23.0%, Qunzhi Consulting believes that the devaluation of the renminbi will become a long-term trend, the Chinese government to stimulate the economy is divided into pulling domestic demand and driven Export, China's export products are still labor-intensive products, the Chinese government hopes that Chinese enterprises "going out", it must be in the exchange rate policy to give some support.
2, the domestic brand manufacturers to actively carry out overseas expansion and mergers and acquisitions
China's TV market in the fierce competition, the slow growth of the premise, in the overseas market share of Japan's brand gradually shrinking in the early, the domestic brands are actively engaged in overseas market expansion and mergers and acquisitions. Sub-brand point of view, TCL's development focus mainly for OEM business, this year actively for emerging countries and emerging brands of orders, the first half of the export volume ranked first; Hisense through the European Cup period to promote and the acquisition of Sharp North America business, overseas markets Export volume ranked second; Skyworth acquired the German Metz business, Toshiba Southeast Asia business and actively increase OEM orders, the first half of the export volume ranked third.
3, with panel resources, domestic manufacturers to expand OEM OEM business
In the entire industry chain TV, panel resources can be described as one of the most important resources, from the first half of this year, panel resources, order, BOE shipments have been the world's second, Huaxing Optoelectronics for the world's fifth, China panel plant supply From 26% in the first half of last year to 37% (including Samsung Suzhou factory and LGD Guangzhou factory shipments), rich panel resources available to Chinese manufacturers to purchase resources, convenience and richness, making China TV manufacturers to actively expand OEM business , Such as TCL, Skyworth and other brand manufacturers and high-found, the new technology and other foundry manufacturers.