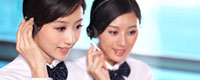 Name: Cassie.Huang
Tel: +86-755-27864416
Fax: +86-755-27864653
Mobile: 15989366182
E-mail: cassie@rxxdisplay.com
Skype: live:cassie_1191
QQ: 2850818618




Company News
>> Sony storms small LCD panel market 30th,Mar,2017
March 17, the world's second largest consumer electronics maker Sony said it will be Japan Seiko Epson Corporation procurement of digital cameras and mobile phones used in small and medium-sized liquid crystal display (LCD) panel production technology and equipment, and form a strategic alliance , To expand market share.
Sony said the two sides have started consultations and is expected to reach an agreement by the end of June. Sony is looking forward to strengthening the company's market competitiveness in medium and small LCD panels after completing its strategic alliance with Seiko Epson.
Sony's consumer electronics sector has been frustrated in recent years, flat-panel TV sales as Sharp, even in the past, the Walkman market is completely lost to Apple's iPod. Sony is expected to have a net loss of $ 1.6 billion in fiscal year ending in March, as domestic and overseas sales are worse than before. Seiko Epson has just released this year's annual operating loss will expand the financial, the company said that the global downturn due to erosion of computer and mobile phone market demand, the company wants to enhance the revenue alone "extremely difficult."
"This agreement will allow us to get the technology needed to produce low-cost LCDs, and with these new technologies and new products to help us, we will be able to develop more sales channels," said Sony spokeswoman Yoshikawa.
According to a panel market survey, 2008 Sony in the small LCD market share of 4.8%, ranked eighth in the world; Seiko Epson was 7.3% market share ranked seventh. Seiko Epson said that by the end of September to close the LCD panel factory in central Japan, the future will focus on the production of LCD panel factory in Tottori.
In the Japanese inkjet printer market ranked Seiko Epson pointed out that due to the consolidation of flat panel display panel and semiconductor operations required great cost, the company in the end of March fiscal year net loss, will record a record $ 1 billion. In response to the recession caused by a sharp decline in market demand, Seiko Epson plans to reduce the semiconductor and LCD business, the future will focus on the production of printers and projectors.