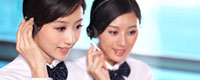 Name: Cassie.Huang
Tel: +86-755-27864416
Fax: +86-755-27864653
Mobile: 15989366182
E-mail: cassie@rxxdisplay.com
Skype: live:cassie_1191
QQ: 2850818618




Company News
>> CPT 10 billion will be increased by auditing through the TFT-LCD panel 10th,Jan,2017
CPT announced on May 18 evening, the China Securities Regulatory Commission issued an audit committee on May 18 of the company's non-public offering of stock applications were reviewed. According to the results of the audit meeting, the company's non-public offering of shares approved by the application. At present, the Company has not received any written approval from the CSRC.
According to the adjusted fixed plan, CPT intends to not less than 10.5 yuan / share non-public offering of not more than 952 million shares, total funds raised not more than 10 billion yuan, of which Fujian Electronic Information Investment, Putian Investment commitment are To subscribe for some 2.5 billion in cash this issue of shares, and the limited period of 36 months.
Among the raised funds, 8.4 billion yuan is planned to invest in the 6th-generation TFT-LCD production line project with a total investment of 12 billion yuan, mainly producing small and medium size display devices. The main target markets include high-end smart phones, differentiated tablet PCs, Industrial control display, etc .; 1.3 billion yuan to be used for the Division as the capital investment in the construction of touch screen display materials device two projects; 300 million yuan to be used to supplement working capital.
CPT previously said that the 6th generation TFT-LCD panel production line project is completed, the company will add an average annual after-tax profit of 477.42 million yuan, the project pre-tax internal rate of return of 7.73%, after-tax internal rate of return of 6.64 %, Sales profit rate of 7.16%, after-tax static investment recovery period of 10.17 years. The construction period of the project is 2 years. After the completion of the project, the annual sales income of the project is 1,415,267,000 yuan, the annual profit is 633,905,200 yuan, the profit after tax is 538,819,400 yuan, the investment recovery period is 4.48 years (after tax).