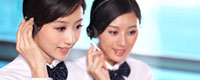 Name: Cassie.Huang
Tel: +86-755-27864416
Fax: +86-755-27864653
Mobile: 15989366182
E-mail: cassie@rxxdisplay.com
Skype: live:cassie_1191
QQ: 2850818618




Company News
>> TCL shows the placement of funds raised 157 million yuan extension LTPS LCD module production 22th,June,2017
TCL announced that it would allocate up to 258 million new shares, with an allotment price of $ 0.62 per share, raising up to $ 157 million. TCL shows CEO Li Jian said: the market for more high-end LTPS LCD module demand is increasing, the Group raised funds through the expansion of production lines, will help expand market share, resulting in greater profits.
The Placing Price represents a discount of 10% to the closing price of HK $ 0.69 today, representing approximately 15% of the existing issued shares and 13.04% of the enlarged issued shares. Li Jian said, can strengthen the financial situation and broaden the shareholder base for future business development into new impetus.
The company said the $ 150 million proposed for the sale would be intended to expand the production scale of the low-temperature polysilicon (LTPS) LCD module and approximately HK $ 6.5 million for general working capital. Upon completion, there will be no placeholder to become a substantial shareholder of the Company.