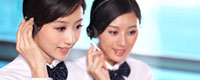 Name: Cassie.Huang
Tel: +86-755-27864416
Fax: +86-755-27864653
Mobile: 15989366182
E-mail: cassie@rxxdisplay.com
Skype: live:cassie_1191
QQ: 2850818618




Company News
>> BOE, Huaxing photoelectric and other Chinese factories grab large-size LCD panel Korean factory leading position is not guaranteed 26th,June,2017
China plant change strategy to large-size LCD panel development, is expected within a few years is expected to go beyond the Korean factory, for the first time on the global large-size panel production leading position.
IHS Markit released a report on Sunday pointed out that China's 32-inch large-size LCD panel shipments in 2017 is estimated at 32 million units, up 33% over 2016. It is noteworthy that 32-inch grade products accounted for 13% reduction in the proportion of shipments in China, revealed that the Chinese plant to actively toward the development of larger size panel attempt.
The larger the size of the panel, the higher the production technology, the output efficiency and profits are better, the Chinese plant to look forward to the development of large-size panel, not only a greater threat to the Korean factory, but also improve profits, can be described as two birds with one stone Including BOE (BOE), Huaxing Optoelectronics (CSOT), and CLP Panda (CEC-Panda) are concentrated resources in the expansion of 43-inch, 55-inch and 58-inch panel production capacity.
Report predicts the end of 2018 China will become the world's largest TFT LCD panel production capacity, analysts further speculate that the Chinese plant may replace the Korean factory to become the world's largest large-size panel. 2015,2016, the Chinese plant global LCD TV panel shipments accounted for 33.2%, second only to the Korean factory 36.4%.
The report said OLED TV panel demand is slow to rise, in the foreseeable future, LCD will dominate the large-size panel market demand. The report estimates that LCD TV panel in 2020 accounted for 98.2% of the proportion, while OLED only 1.8%.