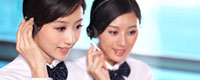 Name: Cassie.Huang
Tel: +86-755-27864416
Fax: +86-755-27864653
Mobile: 15989366182
E-mail: cassie@rxxdisplay.com
Skype: live:cassie_1191
QQ: 2850818618




Company News
>> Break the exclusive monopoly of Samsung high resolution OLED panel! DNP will provide BOQ with WQHD OLED FMM 29th,June,2017
China panel factory BOE will produce WQHD resolution OLED, breaking the Samsung high-resolution OLED panel exclusive monopoly market structure, more Chinese mobile phone brand will have the opportunity to launch WQHD smartphone.
CINNO Research CEO Chen Liya that, WQHD high-resolution OLED screen can be achieved localization, means that high-end flexible OLED and AR / VR display localization prospects are more clear, help to accelerate the domestic OLED panel enterprise market process.
BOE 5.5 inch WQHD flexible OLED display
According to South Korea ETNews reported on June 20, Samsung Display and Japan DNP (Dai Nippon Printing) in the small and medium-sized OLED panel production metal mask (FMM) on the exclusive supply contract at the beginning of this year has been terminated, and DNP is a supplier of OLED mask metal mask with WQHD resolution.
It is understood that DNP and Samsung display OLED metal mask exclusive supply contract termination, that is, with the Chinese panel manufacturers signed a metal mask version of the supply contract, it is said that the Chinese panel makers are BOE.
So far, DNP only to the Samsung display to provide smart phones with OLED display with the production of metal mask version. With its technical capabilities, you can create a small aperture thin metal mask, Samsung also shows almost monopoly of small and medium size OLED smart phone panel of the global market.
In the OLED production process, it is necessary to deposit RGB (red, green, blue) organic matter through the metal mask and to form the pixels, which can improve the resolution and yield by accurately and finely depositing the organic matter in the desired place. Therefore, the metal mask is considered to have a high degree of technical difficulty of the main production fixture.