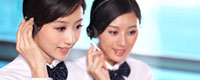 Name: Cassie.Huang
Tel: +86-755-27864416
Fax: +86-755-27864653
Mobile: 15989366182
E-mail: cassie@rxxdisplay.com
Skype: live:cassie_1191
QQ: 2850818618




Company News
>> JDI plans to begin mass production of flexible LCD panels in 2018 1st,July,2017
AMOLED Due to the self-luminous structure, there is no need for a thin film substrate with high light transmittance. However, TFT LCD requires backlighting. TFT cell membrane substrate requires high transmittance, but can not have color, otherwise affect the backlight efficiency. The polyimide film substrate, which is generally used for flexible AMOLED substrates, is orange and has a low transmittance; therefore, flexible lithium panels can not use conventional flexible polyimide films.
As a substitute, JDI has developed a new thin film substrate for flexible LCD panels. This new thin film substrate not only can withstand high temperature TFT light process, and high penetration. At the same time JDI improved the film substrate processing technology, so this new substrate will not affect the LCD panel birefringence effect.
JDI did not disclose the source of supply for this new film substrate material. IHS Markit speculates that it is a transparent and colorless polyimide film developed by many of Japan's different manufacturers of thin film and chemical materials.
Application of the new LTOS (low temperature metal oxide) TFT technology
Even if a substrate resistant to high temperatures is used, the annealing process in the TFT array process may damage the film substrate. In other words, the temperature of the array of TFTs is higher than that of the OLED, and the flexible substrate can not resist such a high temperature. As a result, JDI has developed the latest Low Temperature Oxide Semiconductor (LTOS) process.
At present, the mainstream technology of liquid crystal panel is divided into amorphous silicon (a-Si), low temperature polysilicon (LTPS) and metal oxide (Oxide), and JDI LTOS is low temperature polysilicon and metal oxide combination.
Although known as "low temperature", the current mainstream low temperature polysilicon (LTPS) TFT process requires about 500 degrees in the annealing process to crystallize the polysilicon. LTOS uses oxide semiconductors that can achieve high electron mobility without annealing. This ensures that the crystallization process does not damage the film substrate.
In May 2016, JDI announced a joint technology agreement with Japan's Semiconductor Energy Laboratory (SEL), which previously developed a IGZO (indium gallium zinc oxide) TFT technology with Sharp. With the addition of SEL, JDI will develop an LTOS TFT array for deposition in a lower temperature process.