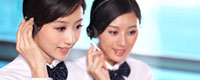 Name: Cassie.Huang
Tel: +86-755-27864416
Fax: +86-755-27864653
Mobile: 15989366182
E-mail: cassie@rxxdisplay.com
Skype: live:cassie_1191
QQ: 2850818618




Company News
>> 2017 LGD OLED TV panel production multiplier target 3rd,July,2017
LG Display (LGD) made 2017 OLED TV panel production of 1.8 million targets, compared to 2016 900,000, will show doubled. It is observed that LGD expects its OLED TV panel business to be profitable in 2019. Prior to this, it planned to reach 2.5 million shipments of OLED TV panels in 2018, to this end, towards large size, high quality Ultra High Definition; UHD) and design differentiation in three major directions, to expand the supply of OLED TV panel to LG Electronics (LG Electronics) outside the TV brand industry.
In 2017, LGD planned capital expenditures of 5 trillion won (about 4.42 billion US dollars), of which 70% will be used to increase the size and flexible OLED panels. In the case of large-sized OLED panels, LGD has embarked on a second phase expansion in the E4 line at the P8 plant in Paju, Gyeonggi-do, South Korea, with a target of 3,000 in the third quarter of 2017.
In order to expand the OLED TV panel business, LGD in response to consumer demand for larger, more vivid, in addition to continuing to enhance the 65-inch OLED TV panel production, but also through the UHD-class OLED TV panel display its quality technical capabilities, Introduced the surface, transparent and other appearance of the difference between the OLED TV panel, to expand the OLED TV panel products to the sea.
According to observation, 2017 LGD OLED TV panel expansion plan will be the second stage of E4 production line investment, compared to its flexible OLED panel will cover the E5 production line and E6 new production line construction, can see Out of the LGD in the flexible OLED panel has Apple (Apple) for the case of the sea, in the large-size OLED panel investment is relatively conservative.