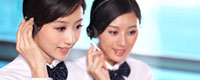 Name: Cassie.Huang
Tel: +86-755-27864416
Fax: +86-755-27864653
Mobile: 15989366182
E-mail: cassie@rxxdisplay.com
Skype: live:cassie_1191
QQ: 2850818618




Company News
>> CES2015: "panel king" LG will push the world's thinnest LCD TV 6th,July,2017
"The future, the display of the field 'looks beautiful' requirements will not only be limited to the beauty of the picture brought by the delicate picture quality, will also cover the display device design and space with the mix.
At CES 2015, LG Display will unveil the differentiated "Art Slim" series, once again to highlight its long-term dominance in the field of television panel market dominance of the technical strength. Talk about the design of the original intention of the series, LG Display TV Division Huang Long from the vice president issued such a feeling.
In the past few years, the LCD TV market in addition to 42 inches and 40 inches, 47 inches and 46 inches between the size and price competition, but also broke out of the IPS hard screen and VA soft screen, FPR flash 3D And SG shutter 3D and other technical disputes. However, in the increasingly mature technology today, people's needs are no longer limited to the display, the appearance of the TV requirements are getting higher and higher, to start the border to minimize the technical battle.
Art Slim series of products out of the traditional competitive thinking to differentiated technology and design, its focus on the border to minimize the thickness of the product weight to the extreme, to provide a broader design space for the terminal manufacturers, Once again lead the trend of competition.
At CES 2015, LG Display will be the first to open 55-inch and 65-inch Art Slim products. Two products were 7.5mm and 8.2mm thickness, compared with the general 55-inch LCD TV products, the thickness of 30mm reduced by more than 75%, to achieve comparable to the slim design of smart phones. In addition, the weight of the two products were 10.4kg and 16.2kg, compared with ordinary products by 25%. Such a slim design combined with wall-mounted features, can be achieved with the perfect combination of indoor environment, was rated as 'photo frame the same TV'.