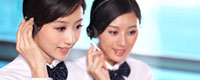 Name: Cassie.Huang
Tel: +86-755-27864416
Fax: +86-755-27864653
Mobile: 15989366182
E-mail: cassie@rxxdisplay.com
Skype: live:cassie_1191
QQ: 2850818618




Company News
>> Samsung began mass production for 46-inch LCD panel for public display devices 7th,July,2017
Samsung, which is keen to produce digital information displays (DIDs) with state-of-the-art technology, today announced that it has begun mass production of 46-inch digital signature panels, which is said to be the world's highest brightness LCD panel.
Samsung said its latest 1500-nit LCD panel is now available in a number of applications where digital signatures are needed, such as transportation centers, bus sites, museums, shopping malls and retail stores to replace outdated poster ads. These panels provide optimum display in the widest range of lighting conditions.
For Samsung, this high brightness DID panel brightness is any one of the typical LCD TV three times, in addition, it also uses a 3000: 1 contrast ratio.
Samsung high brightness DID LCD panel can display with 16,700,000 colors of high-definition images, with 1366 × 768 pixel screen resolution, and the current maximum viewing angle of 178 degrees. Samsung said that the original plan is to combine this panel tiled to build outdoor and indoor "TV wall" effect.
Samsung uses high-performance cold cathode fluorescent lamps (CCFLs) to generate high current, and through a layer of very thin color filter to achieve this high brightness DID.
Samsung will begin shipping its high-brightness DID display this month.