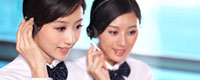 Name: Cassie.Huang
Tel: +86-755-27864416
Fax: +86-755-27864653
Mobile: 15989366182
E-mail: cassie@rxxdisplay.com
Skype: live:cassie_1191
QQ: 2850818618




Company News
>> IHS: smart phone with 2017 OLED panel shipments estimated double 19th,Jan,2017
According to market research firm IHS survey, because more and more smart phone factory will be used two years later, the global smart phone for the OLED panel shipments expected to grow nearly 1 times.
IHS pointed out that in 2015 the smart phone with OLED panel shipments growth of 47.8% to 2.57 million, is expected to 2017 shipments will surge to 455 million, mainly due to an increasing number of smart phone manufacturers, especially Is Oupo (OPPO), Vivo and other Chinese plants, choose to replace the LCD screen OLED.
And the industry rumors since 2017, the US Apple will be 5.8-inch OLED screen iPhone, to replace the existing 5.5-inch LCD-type iPhone.
IHS and forecast 2020 global LCD panel shipments, from 1.58 billion this year reduced to 1.36 billion.