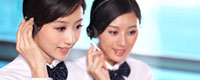 Name: Cassie.Huang
Tel: +86-755-27864416
Fax: +86-755-27864653
Mobile: 15989366182
E-mail: cassie@rxxdisplay.com
Skype: live:cassie_1191
QQ: 2850818618




Company News
>> IPhone next year to take AMOLED panel touch the two sides of the factory grab a single 9th,Feb,2017
Apple (Apple) in 2017, the new iPhone will be equipped with AMOLED panel transmission, the fear will lead to the reshuffling of the upper reaches of the supply chain, the current wave of Apple's first wave of OLED panels and touch-fitting orders will be Samsung Display (Samsung Display) Right, as touch sensor supplier has not yet finalized, recently has triggered cross-strait touch manufacturers to grab a single full. In addition, Apple has recently actively layout the mainland market, Apple may also increase the mainland touch panel suppliers. However, Apple and related businesses have not confirmed the order message.
Supply chain operators revealed that Apple's new iPhone in 2017 is expected to use AMOLED panel, and Apple has announced that Samsung has signed a three-year contract, is expected from the second quarter of 2017 supply iPhone OLED panel. As the OLED panel to take embedded (in-cell) technology, the process of high threshold, Samsung monitor may be with plug-in (out-cell) program, and single-handedly arranged touch panel fit, touch panel factory Chen Hong, And so fear no chance to get the new iPhone touch fit orders.
Although the new iPhone in 2017 first wave touch panel OLED touch-sensitive orders released hopeless, but the current list of touch sensor supplier has not yet finalized, Japanese touch plant photo printing (Nissha) is expected from the iPad suppliers, Further cut into the ranks of the iPhone supply, but the Japanese photo printing existing production capacity is still insufficient to supply Apple iPhone production needs, Apple may increase 1 to 2 touch suppliers.