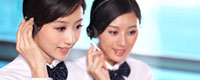 Name: Cassie.Huang
Tel: +86-755-27864416
Fax: +86-755-27864653
Mobile: 15989366182
E-mail: cassie@rxxdisplay.com
Skype: live:cassie_1191
QQ: 2850818618




Company News
>> Taiwan panel double tiger storm can wear OLED market 16th,Feb,2017
Affected by the Apple iPhone will be active organic light-emitting diode (AMOLED) screen stimulation, the ROK and Japan actively invest in AMOLED, in order to expand the smart phone with the OLED market share, AUO and group, then wearing devices and virtual reality (VR) OLED products cut into the market in 2017.
(JDI) also merges the production of OLED J-OLED company, as Hon Hai Chairman Gou Taiming, also came to Japan OLED equipment maker Canon, in person, the Japanese display device, the Samsung monitor and LG Display actively strive for Apple OLED orders, the Japanese display (JDI) Help Sharp grab equipment.
Mainland, also total will be about 600 billion yuan to build six to seven OLED panel factory.
Taiwan factory, AUO has shipped smart watches and VR with the OLED products, especially in the circular smart watch OLED above, the current market is almost all use AUO products. As for the group planning in next year's cargo wearing device with the OLED panel, also began to enter this market.