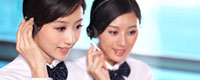 Name: Cassie.Huang
Tel: +86-755-27864416
Fax: +86-755-27864653
Mobile: 15989366182
E-mail: cassie@rxxdisplay.com
Skype: live:cassie_1191
QQ: 2850818618




Company News
>> TFT-LCD will soon be replaced by OLED jump next generation display protagonist 16th,Feb,2017
China Optical Optoelectronics Industry Association LCD Branch (CODA) Secretary-General Liang Xinqing in the International Display Industry Summit Forum (DIC 2016) annual meeting on the development trend of liquid crystal display technology, TFT-LCD will soon be replaced, and OLED will soon meet the maturity.
TFT-LCD since the 1980s began to apply to consumer electronics and information products. Then, after the product growth period, with the same period other types of displays, such as plasma display, projection display competition after winning. Is currently in the mature stage, so Japan and South Korea display manufacturers think about the next generation of display technology, the current development of OLED technology, LCD is about to enter the recession.
In addition, according to South Korea's display industry research agency UBI Research said, although the LCD in the market to repel the CRT and PDP, but the future will eventually lose the attractive LED display features. It is estimated that by 2020, OLED will account for 68% of the TV market, and become the first choice for high-end TV. UBI predicts that smartphone shipments will reach 1.9 billion units by 2020, with OLED panels accounting for 1.4 billion, of which there will be about 900 million pieces of Flexible OLEDs.
The next generation iPhone is about to use OLED expectations of the psychological, coupled with the technical characteristics of OLED itself sophisticated, and gradually step by step LCD market, has become the next generation of mainstream display technology. Following the OLED, there are three advanced display technology, but also for Apple and Samsung show manufacturers concern, respectively, "MICRO LED" "quantum dot LED" and "printing electronics." Which in order to "print electronic" technology began for the mobile device touch panel used, that is, Japan and South Korea panel panel to be developed FLEXIBLE OLED display technology, should be the next two generations of advanced display technology direction.