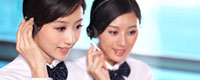 Name: Cassie.Huang
Tel: +86-755-27864416
Fax: +86-755-27864653
Mobile: 15989366182
E-mail: cassie@rxxdisplay.com
Skype: live:cassie_1191
QQ: 2850818618




Company News
>> AUO will ship a large number of VR in the second half of the OLED panel 20th,Feb,2017
AUO is Taiwan's first mass production OLED panel factory, but limited by the small scale production capacity, in addition to the production of wearing devices such as smart watches used in OLED screen, but also the development of VR headset used by the OLED, The second half of mass production shipments. As for the long-standing layout of the soft OLED will be mass production early next year, but also to wear or VR VR-based equipment.
AUO is very optimistic about the growth potential of OLED in the VR market, the active layout card position, AUO general manager Cai Guoxin said, VR device requires high resolution, fast response, and OLED characteristics coincide, AUO has accelerated the development speed, Launched a resolution of 423ppi VR helmet, the second half of the brand manufacturers will introduce several VR products, using AUO OLED panel.
AUO is currently mainly in Singapore's 4.5 generation line, and Taiwan's 3.5 generation line production, in order to play the high value-added OLED, AUO lock the higher price of VR and smart watch market last year launched a 1.4-inch round Smart watch panel, the market response is good, sales of more than one million, this year will continue to cooperate with the brand factory launched sports and children with smart watches.
As for the mass production in the OLED production speed later than the AUO, the original group together with the United States and Chi Mei Electric, also has odd crystal and the treasure of the OLED technology.